Profiles of highlighted GenEd courses
Each semester, we profile courses that meets a GenEd category requirement. Sometimes the university offers great courses that tend to somehow get overlooked. So, this page is a good place to start if you need an idea about an interesting course that might be "off the beaten path."
76-443 Shakespeare and Critical Theory (Category: Creating)
Our Shakespeare course fits the "Creating" category because in it, each student creates an interpretation of plays that have been intriguing and puzzling readers and theater-goers for centuries. Creation begets more creation. Shakespeare himself had inherited plots and language to inspire him, and each time he composed for the stage, he made something new. Now we create new readings of his work, and no two of them will be exactly the same.

In this course, we look carefully at genre--how the comedies differ from the romances, the histories from the tragedies--to see how the creative process both conforms to rules and evades them, and how within categories the plays differ from one another. We are interested in how Shakespeare addressed his first (Elizabethan/Jacobean) audiences on the "hot" topics of the day, but also what in the plays is of particular concern to us.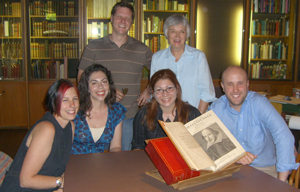 Professors Michael Witmore and Peggy Knapp with graduate teaching assistants
Thora Brylowe, Emily Klein, Becca May, and William Blake,
with the first Shakespeare Folio, Hunt Library